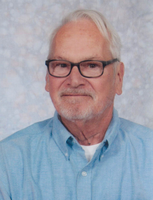 Lawrence F "Larry" Suiter
Lawrence "Larry" F. Suiter, age 78, of Hampton, NJ, formerly of Bernards Township, NJ, passed away Wednesday, December 23, 2020. Born on October 30, 1942 at Morristown Memorial Hospital in Morristown, NJ, he was the son of the late John Stanley Suiter and the late Sally (nee Koish) Suiter.
In 1965, Larry married his high school sweetheart, Gail (nee Ike) Suiter. The first year of their married life was spent in Alaska, at Fort Richardson where Larry was a SP4 in the Army. They lived in Bernardsville, NJ for 50 years before moving to Hampton. Until retirement Larry worked as a packaging mechanic at Ortho McNeil.
Larry was a friend to all, known for his wonderful sense of humor. He enjoyed traveling and in his free time, he liked to go camping in his motorhome. He also enjoyed a "good" game of golf as well as watching Nascar and football. Most of all, Larry loved spending his time with family and friends over cocktails.
Larry will be forever missed by his beloved wife of 56 years, Gail Suiter (nee Ike); children, Ellen M. Doering and her husband George R. Doering III, David L. Suiter and his wife Terry (nee Green), Karen A. Sutton and her husband Wayne; six grandchildren; and nine great grandchildren.
Larry is predeceased by his parents and sister, Joan Eckert. He leaves behind his brothers John and Donald and sisters Jean Milito and Doris Tipton and their families.
Relatives and friends may gather with the family on Monday December 28, 2020 from 5:00 pm until 7:00 pm at Knoll-DeVoe Funeral Home and Cremation Service, 142 West Washington Ave, Washington, NJ 07882. A Mass of Christian Burial will be offered on Tuesday, December 29, 2020 at 10:00am at the Church of St. Ann, 6 Church Street, Hampton NJ with Fr. Michael Saharic officiating. Entombment will follow at the Holy Cross Mausoleum, Mount Airy Road, Basking Ridge, NJ.
In lieu of flowers, donations in Larry's memory may be made through IN MEMORY OF for the Alzheimer's Research Foundation at https://inmemof.org/lawrence-larry-suiter