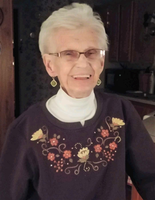 Helene R Balderson
Helene Rose Balderson, age 96, passed peacefully on Thursday January 14, 2020. Born on October 18, 1924 in Morristown, NJ, she was the daughter of the late Rocco Peter Sgalio and the late Bridgie Antonaccio Sgalio.
Helen was a 1942 graduate of Morristown High School in Morristown, NJ. She married her beloved husband, Alfred Balderson, on September 1, 1946. Together raised a beautiful family having three children; Elaine, Allen, and Diane. Helene was a devoted wife and mother. She had worked as a telephone operator, clerical assistant, and as a housewife.
In Helene's free time she enjoyed crocheting and crafts. She liked adult coloring and shopping. Most of all, Helen loved spending time with her family. She was a very proud grandmother and great-grandmother.
Helene will be forever missed by her daughter, Elaine Dobes and her husband Albert of Temple, TX; son, Allen Balderson and his partner Bob Craig of San Francisco, CA; daughter, Diane Gyuricza and her husband Paul of Bangor, PA; grandson, Steven Dobes and his wife Amy of Temple, TX; granddaughters, Danielle Gyuricza and Casey Gyuricza of Bangor, PA; and great-granddaughters, Ryan Dobes and Elsye Dobes of Temple, TX.
A private service will be held by the family at the Belvidere United Methodist Church. Arrangements are under the care of Knoll-DeVoe Funeral Home & Cremation Service, 142 West Washington Ave, Washington NJ 07882.