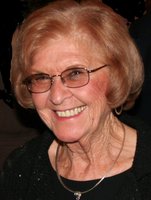 Gilda Jean Pulsinelli
Gilda (Ricucci) Pulsinelli was born on November 10, 1921 in New York City to Pasquale and Loreta Ricucci. She had four siblings Nicholas Ricucci, Frank Ricucci, Virginia (Ricucci) Casoria, and Michael Ricucci, all of whom pre-deceased her. She spent her early life at their mother's home on Staten Island, returning to live in New York City in her teenage years. She married Anthony W. Pulsinelli at the young age of 17 at Our Lady of Mount Carmel church on East 115th Street in New York City, a few blocks from her mother's apartment. She moved to Port Murray, New Jersey to live with Anthony on his family's farm, a quite different lifestyle from her early years in New York City.
Gilda is survived by her daughter and son-in-law, Deborah and Steve Vitale, who reside in Rancho Mission Viejo, California, her son and daughter-in-law William and Barbara Pulsinelli of Smithfield, Virgina, her two grandchildren, Christine Pulsinelli of Dallas, Texas, and Michael and Molly (Imber) Pulsinelli, of Lawrence, Kansas. Gilda has two great granddaughters, Alice and Evie Pulsinelli of Lawrence, Kansas.
Gilda's passions were cooking and keeping her home free of a single dust particle. In her later years she became an avid reader of novels and cookbooks. Following the death of her husband, Anthony in 2009, she moved to Memphis, Tennessee in 2012, to live near her son and daughter-in-law, William and Barbara Pulsinelli, and her two grandchildren, Michael and Christine. In 2016 she moved to Newport News, Virginia to reside at the Arbors, a senior assisted living complex. She made many friends at the Arbors where she loved socializing with the residents and staff. She especially enjoyed dressing for dinner and showing off her stylish clothes.
Gilda passed away on May 8th at the age of 99, in residence at Magnolia Manner in Smithfield, Virginia. She will be laid to rest alongside her husband Anthony at the St. Mary's Mausoleum, in Alpha. Funeral services and a Mass of Christian burial are limited to the immediate family only. A celebration memorial gathering for Gilda's extended family will be scheduled this coming Fall, after the concerns for the pandemic will allow a normal exchange of condolences and a celebration of Gilda's years among us.
In lieu of sending flowers, Gilda would be most pleased if you donate a gift in her name to St. Jude Children's Research Hospital, 501 St. Jude Way, Memphis, TN, 38105.