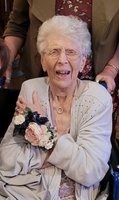 Barbara B. Singley
Barbara B. Singley, age 90, of Broadway, NJ, passed peacefully on Monday July 5, 2021 at home, surrounded by her loving family. Barbara was born on Tuesday August 26, 1930 in Harrisburg, Pennsylvania. She was the daughter of the late William J. and the late Dorothy (née Layman) Burleigh and grew up with her sisters Doris, Nancy, and Janet in the town of Wyalusing Pa. As they grew older, Barbara and her sisters, known as "The Burleigh Sisters", often sang together in church.
After high school, Barbara decided to become a teacher and earned a Bachelor's Degree in Education from Mansfield University in 1952. She then moved to Washington, New Jersey and began her teaching career at Taylor Street Elementary School. She taught third grade there for eight years. During that time, Barbara would walk to the Washington Movie Theater and watch a movie for 10 cents, often staying for a double feature. She also enjoyed bowling in the Washington Ladies Bowling League.
Eventually, Barbara met and married her wonderful husband, Alfred G. Singley. They built a home in Broadway, New Jersey, and enjoyed time with their children, with many Sunday meals spent together at their dining room table. They became active members of the local Lions Club. For many years, Alfred and Barbara had big Fourth of July celebrations, which were greatly enjoyed by friends and family alike.
After continuing her teaching career at Holland Township School, Barbara eventually decided to retire in 1986. In 2002, Barbara lost her husband of 44 years. She spent the next several years being the best babysitter and scrambled egg maker to her precious grandchildren. They all loved to go to Grammy's house. In recent years, Barbara enjoyed watching her favorite TV shows, Little House in the Prairie and The Golden Girls. She also enjoyed the music of Glenn Miller and watched The Glenn Miller Story several times.
Barbara, above all, loved her family and all of her grandchildren, great-grandchildren, and great-great-grandchildren.
Barbara is survived by her 4 daughters, Linda Woolf, Terrye Armstrong (Charles), Cathy Opdyke (Tracy), Joane Hockenbury (Terry); 2 sons, Thomas Singley (Sally), Michael Singley (Lisa); 15 grandchildren, Eddie, Stephanie, Jon, Andrea, Mat, Drew, DJ(NJ), Rachel, Cole, Kate, Kyle, Kristen, Logan, Hailey, and DJ(TX); 15 great-grandchildren, and 8 great-great-grandchildren. She is predeceased by her loving husband, Alfred G. Singley, her parents, William J. Burleigh and Dorothy Layman Burleigh, and her sister, Doris Howard.
Gathering of Family and Friends will be held on Saturday, July 10th from 10:00 am until 12:00 PM at Knoll-DeVoe Funeral Home & Cremation Service 142 West Washington Avenue, Washington, NJ 07882. A service of remembrance will be held at 12:00 pm in the funeral home. Burial will follow at the Washington Cemetery, 14 Cemetery Hill Road, Washington NJ.
Memorial donations may be paid directly online to Wycliffe Bible Translators, Click Here to Donate or mail to Wycliffe Bible Translators PO Box 628200 Orlando, Fl 32862-8200