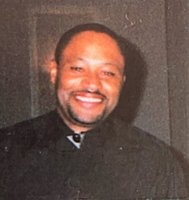 Lawrence Keith Walls
Lawrence "Lovey" Keith Walls of Port Murray, New Jersey tragically passed away on July 12, 2021 at the age of 59. Lawrence was born November 4, 1961 to his loving parents Lawrence Walls and Ina Walls. He was born and raised in Warren county and graduated from Warren Hills Regional High School in 1981. Right after graduating Lawrence became one of the few, the proud, and enlisted in the United States Marine Corps. He spent time serving in both Grenada and Beirut and earned the rank of Lance Corporal before his honorable discharge in 1985. On August 1, 1987 Lawrence married the love of his life Yvonne Walls. Together they raised a loving family and had four wonderful children; Son, Davell Walls, and Daughters, Zeena Walls, Treylin Walls, and Crystal Long. Lawrence loved nothing more then getting to spend time with family and friends and truly cherished every moment he could with them.
Lovey leaves behind his wife Yvonne Walls, Son Davell Walls, Daughter Zeena M. Walls, Daughter Treylin Y. Walls, Daughter Crystal C. Long and her Husband Randy Long, and his Granddaughter Jaena Long. He is also survived by his Parents Lawrence F. Walls Jr. and Ina D. Walls. Lawrence is predeceased by his maternal grandmother Edith Steele, maternal grandfather Horace Walker, paternal grandfather Lawrence F. Walls Sr., and maternal grandmother Mary Walls.
Relatives and friends are invited to gather with the family on Sunday July 18, 2021 from 2pm to 4pm at Faith Discovery Church located at 33 Brass Castle Road Washington, New Jersey 07882. A service of remembrance, with Marine Corp Honors, will follow the visitation at 4pm at the church. Arrangements are under the care of Knoll-DeVoe Funeral Home & Cremation Service, Washington, NJ.