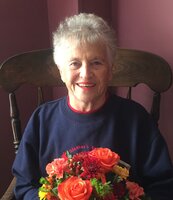 Beryl Elaine Baylor
Beryl Baylor of Oxford NJ went home to her Lord and Savior on Friday August 20th. She passed peacefully in her home that she shared with her son Craig. She was born May 6th 1939, to the late Ray and Helen (Renner) Frey. She also was the beloved sister of the late Arlene Oostdyk.
Beryl graduated in 1956 at the age of 16 from Washington High School, where she was active in the band playing the Trombone. Beryl married her beloved husband, Maynard (Pudge) Baylor in 1958 and had 4 children.
Beryl worked for the Oxford School when her children were younger and the Warren County Court house until she retired. She had a passion for animals, traveling, country line dancing and motorcycle riding. She played softball until the age of 50 as a southpaw pitcher. She was known for her beautiful blue eyes and her ability to talk to everyone!
Beryl had many close friends whom she loved, Billy, Suzie, Carol, Terry Lee and many more!
Beryl is survived by her 4 children; Holly Baylor Stinson and her husband Michael; son, Glen Baylor and his wife Renee; son, Carl Baylor and his wife Leah and son Craig Baylor. Also an honorary daughter Tracey Weidlick George and her husband Steven. Beryl is also survived by 13 grandchildren and 9 great grandchildren.
Friends and relatives will be received by the family on Friday August 27th from 10:00 am until the service of remembrance begins at 11:00 am. All services will be held at The Chapel at Warren Valley, 384 Route 57 West, Washington NJ 07882. A lite luncheon will follow the service at The Chapel. Interment will be held privately at the Hillside Cemetery in Oxford.
***The family asks that masks are worn during the receiving line and to please social distance as much as possible for the safety of our compromised guests. Thank you***
Donations in Beryl's name may be made to the Walter Hoving Home (www.hovinghome.org) in Oxford NJ or animal charity of your choice.