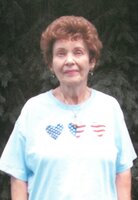 Louise Jean DeVenuta
Louise Jean DeVenuta, 83 years, of Slatington, PA, passed away on Thursday September 2, 2021 at the Garden of Easton. She was born on December 26, 1937 in Bayonne, NJ and is the daughter of the late Peter DeVenuta and the late Harriet (née Kraszewski) Anthony.
Louise worked for many years as a Home Health Aide and was a phenomenal cook. She made many friends throughout her life time and will be missed all who knew her.

Surviving is her brothers Frank DeVenuta of Slatington PA, Joseph DeVenuta and his wife Karen of Florida; step-brother John Sears of Bloomsbury; step-sisters Joy Zella of Easton and Joyce Cardona of Harmony, NJ.
Lousie was predeceased by her brothers, Larry, Peter and Carmello "Sonny" DeVenuta.
A graveside service will be held on Wednesday, September 8th at 12:00 pm at the Cokesbury Presbyterian Cemetery.