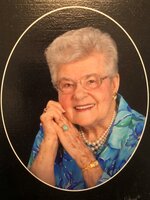 Lois Virginia Renigar Lance
Lois Virginia Renigar Lance, 98, of Ocala, FL, formerly of Asbury, NJ died April 30, 2022. She was born in Asbury, NJ to the late Alfred Barshall Renigar and Violet Osmun Renigar. She and her husband owned and operated a cleaning company in Miami, FL for 25 years. The couple retired to Ocala in 1976. She was a member of the Miami Shores Presbyterian Church and a member of First Presbyterian Church, Ocala. Being very active in church activities, she belonged to the women's circle in Miami Shores and she and her husband started the VIP program at the First Presbyterian Church, Ocala, as well as a volunteer at the church, working in the office. She was also the past Royal Matron Guelda Cress Court No. 29 Order of Amaranth and a member of Rebekah's. She and her husband also volunteered at the Gainesville Veterans Hospital under the Masonic Service Association accumulating many hours of service.
She was preceded in death by her husband Harry Smith Lance, daughter, Lois Baucom, son, Harry Watson Lance, brother, Barshall Renigar, sister, Patricia Karcher, and grandson, Scott Lance. Survivors include her son Jerry Lance of Miami Shores, Fl. and daughter Spring Patton (Roger) of Swannanoa, NC, sister's Connie Boyajean of Enfield CT, and Elain Walsh of Centennial, CO, daughter-in-law, Gertrude Lance and son-in-law, Jerome Baucom. Several grandchildren, great grandchildren and great, great grandchildren, nieces and nephews.
A funeral service for Lois will be held on Saturday, May 21 at Ocala First Presbyterian Church at 11:00am. Burial will be at Pequest Union Cemetery in Great Meadows, NJ on June 10, 2022.
Arrangements were handled in Florida under the care of Hiers-Baxley Funeral Services, 910 East Silver Springs Blvd, Ocala, FL 34470, info@hiers-baxley.net. Services in New Jersey will be handled under the care of Knoll-DeVoe Funeral Home & Cremation Service, 142 West Washington Avenue, Washington, NJ 07882. www.knolldevoefh.com