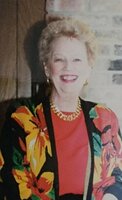 Elsie M. Calvin
Elsie M. (nee Larsen) Calvin, age 95, of Annandale, NJ, passed away Wednesday, May 11, 2022. Elsie was born and raised in Brooklyn, NY on March 4, 1927. She was the daughter of immigrant parents from Norway, the late Paul Larsen, and Sweden, the late Agda (nee Johannsen) Larsen.
Elsie excelled in school, developing a love of learning, and reading. Upon her graduation from high school, Elsie went to work in Manhattan at the RCA Building in their advertising division. Soon after the War, Elsie married her high school sweetheart, Ronald T. Calvin. From that time on, the endless adventures began for both Elsie and Ronald, as they moved every three to five years with three children in tow. They traveled throughout Europe and the USA. Elsie was truly a loving and dedicated wife and mother.
Other than a devoted wife and mother, Elsie had a passion for volunteerism. She was compassionate, kind, and selfless, giving of herself and her time to her community. Over the years, she supported many organizations in the communities she lived even into her early 90's but three especially stand out; The National Federation of Women's Clubs, as a Board Member and at the local level, she was a former President, Vice-President and Secretary of the "Long Hill Woman's Club" for over twenty years, "Friends of the Red Mill" in Clinton, NJ, as the former Vice-President and Secretary for more than twenty years, and "The Consignment Shop for Women's Crisis Services" in Flemington, NJ where she worked every Wednesday for over twenty years. She tirelessly donated her time to raise needed funds and spread awareness throughout her community.
Elsie's other passion was playing Bridge, a game she felt everyone should learn for it is a stimulating game as well as a great way to meet new people. Her Bridge Group even celebrated her 95th birthday. Elsie played cards every week up until recently. Through her many years of not only playing cards but her dedication to volunteerism, she developed lifelong friends.
Elsie will be forever missed by her sons, Vance C. Calvin, Bruce R. Calvin and daughter -in-law, Marjorie Calvin; by her daughter, Wendy Calvin Fedele and son-in-law, Vincent Fedele; as well as grandchildren, Michelle A. Calvin, Shane T. Calvin and step grandson, Jason M. Bloom.
Elsie is predeceased by her beloved husband, Ronald T. Calvin, and her parents, Paul and Agda Larsen.
Elsie will be inurned privately by her family in Gate of Heaven Cemetery, Hawthorne, NY. Arrangements are under the care of Knoll-DeVoe Funeral Home & Cremation Service, Washington, NJ. For further information or to send condolences to the family please visit www.knolldevoefh.com