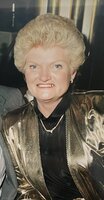 Emma Gentile
Emma Gentile (nee Greenan), 77, of Belvidere, New Jersey entered into eternal rest on May 28th, 2022, at her home with her beloved son by her side. Emma was born on September 3rd, 1944, in Camden, New Jersey to the late Charles and Edna Greenan. Emma was raised in Stony Point, New York and graduated from North Rockland High School in 1962. Emma then married her one true love Salvatore Gentile and then settled down in Hackettstown, New Jersey in 1969. Together Emma and Salvatore raised their son Joseph, whom they adored. On April 12, 1989, Emma started working for the Hackettstown Police Department as a Secretary to the chief of police.
For many decades Emma was a parishioner at Our Lady of the Mountain Catholic Church in Long Valley, New Jersey. She was also a Eucharistic Minister and taught Sunday School for many years. Emma was active in her family's lives and never missed an event especially when it came to watching her son Joe play in all his multiple sports games. Emma loved to garden and had a knack for making flowers bloom and vegetables grow, her garden was bountiful. Emma also enjoyed giving back to her community and volunteered in various roles throughout her life, and most special to her were the times she spent volunteering for the American Cancer Society and giving to families in need.
After the passing of her husband in 1999, Emma took up ballroom dancing at Hasting Square in Hackettstown. She fell in love with the DanceSport and was even in showcases.
Emma will be forever missed by her beloved son Joseph Gentile.
Emma was predeceased by her loving husband Salvatore in 1999.
Relatives and friends may gather with Emma's family on Thursday, June 2nd from 10:00 am until 12:00 pm at Knoll-DeVoe Funeral Home & Cremation Service, 142 West Washington Ave, Washington, NJ 07882. A Funeral Mass of Christian Burial will be offered at 1:00 pm on Thursday, June 2nd at Our Lady of The Mountain Church, 2 East Springtown Road, Long Valley, NJ 07853. Inurnment will follow privately at a later date.
In lieu of flowers, donations in Emma's name may be made to St. Jude's Children's Research Hospital, Please Click Here to Donate