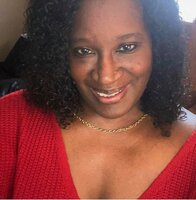 Jennifer Frances Stevens
Jennifer Frances Stevens was born on March 18, 1972. In April 1973 she was adopted by her parents Reverend Simeon and Gloria Bullock (Brown). Jennifer was brought home one year and one day after her birth and loved ever since by her parents.
Jennifer was raised in Morristown, NJ. She attended Assumption of the Blessed Virgin Mary Catholic School from kindergarten to eighth grade. In Morristown she made friends with people that she was friends with her entire life. While living in Morristown, Jennifer participated in many activities including her piano lessons at the Neighborhood House on Flagler Street.
In 1985 The Bullocks moved to Port Murray, NJ. While living in Port Murray Jennifer attended and graduated from Warren Hills Regional High School where she lettered in basketball and participated in the Key Club and Medical Assistance Club.
With a voice that never stopped and an eagerness to learn, Jennifer attended Douglas College, Rutgers University where she studied Economics. She later transferred to Centenary College in Hackettstown, NJ where she finished her undergraduate studies with a degree in Economics and Social Science. With these degrees in hand, Jennifer returned to Rutgers University School of Law in Newark, NJ where she received her Juris Doctorate and an MBA in Finance.
Jennifer worked for Citi Bank in New York and New Jersey for 15 years. Most recently she made a new career home at Global Healthcare in Milford, NJ.
In 2004, Jennifer met Solidene ('Sal') Stevens and they started a romance that produced their son, Madrid Simeon Stevens. Working together to raise their son in a loving, spiritual environment, Sal and Jennifer married in 2011 with Madrid by their side.
Jennifer's many activities included reading, shooting hoops, participating in various professional and religious organizations. She also supported her son in his many activities including football, wrestling, soccer, basketball and Cub Scouts. Jennifer could be seen and heard screaming his name and encouraging him in everything that he did. Her beloved cowbell was never far from her side.
Jennifer was preceded in death by her father Reverend Simeon C. Bullock in December 2002 and her mother Gloria Bullock in November 2020.
Jennifer leaves to mourn her memory, sons Madrid, Port Murray, NJ, Saladene Jr., Newark NJ, G-Ma to Nevaeh and Xavion, Newark, NJ, Goddaughter, Jania Jones of PA, Godsons, Xicio Elijah Rodgers and Ezra Ali Rodgers of Scranton, PA and Best Friend of over 30+ years Shana Frazier, Morristown, NJ and a host of nephews, nieces, cousins, Aunts, Uncles and many, many friends.
Family and freinds are all welcome to gather for a Celebration of Jennifer's Life on Sunday June 5th, 2022 from 2pm to 7pm at 81 Broad Street, Phillipsburg, New Jersey 08865.
In lieu of flowers donations may be made through IN MEMORY OF, to the scholarship fund for Jennifer's son Madrid, Please Click Here to Donate