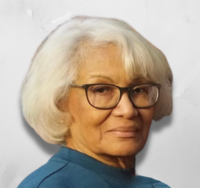 Sonya Sheila Oliver
Sonya Sheila Kerr was born in Belize City, Belize on March 10, 1944, to Basil and Amelia Kerr. She was the oldest of 10 siblings, spending her childhood between Belize City and Stann Creek. She attended St. Mary's School in Belize City and upon graduation, she began attending a Catholic College in Stann Creek for about a year and a half. She soon moved and settled in Burrel Boom. During this time, she began a position as a seamstress with the Williamson Dickie Sewing Factory where she was promoted to fore lady for the entire factory.
In 1960, Sonya met William (Bill) Oliver and they got married in 1962. They had three boys: Michael, born in 1963, Matthew, born in 1968, and Mark, who passed away shortly after birth.
In 1970, she migrated to the United States with her family and lived in Queens Village, NY. She quickly applied for and acquired a driver's license, and soon after found a position at a sewing factory in Brooklyn, NY.
Sonya was very talented as a seamstress, so much so that she would often make complete suits for the boys. With Bill being in the knitting/garment industry as well, he moonlighted setting patterns and designs for customers, from which she quickly learned how to take a pattern from a graph and program it into drums for installation on the knitting machines. Sonya and Bill were quite the team on moonlight jobs, as she was an avid needle pointer. She was also an amateur photographer – the umpteen pictures she left behind can testify to her love of photos and photography.
Sonya enjoyed traveling, also documenting her travels with photography. She took several trips around the US, and visited small towns in Mexico, British Columbia, several cities in Canada, Scotland, England, and of course Belize. She also loved cooking, gardening, and taking care of her many thriving plants.
Sonya, a devout and loving mother to her two sons, graduated to "Grandma" in 1988, when her first grandchild was born – Kymberly, daughter of Matthew. Then, in 1993, her second grandchild was born – Ashely, daughter of Michael. 1993 was also a year of big achievement for Sonya as she became a naturalized citizen of the United States. Michael had four more children, adding to Sonya's growing list of grandchildren over the years: Allysa, born in 1995; Alexis and Isaac, born in 2000, and Michael, born in 2002.
Sonya is survived by her husband, William, her two sons, Michael, and Matthew, and five grandchildren, Kymberly, Ashely, Allysa, Alexis, and Michael.
Friends and relatives may gather with the family on Wednesday, June 22nd from 11:00 am until the start of the service at 1:00 pm at Knoll-DeVoe Funeral Home & Cremation Service, 142 West Washington Avenue, Washington, NJ 07882. To share memories with the family please visit www.knolldevoefh.com
In lieu of flowers, the Oliver Family is requesting donations to be sent to the National Pancreatic Cancer Foundation, toward pancreatic cancer research. Please Click Here to Donate
To view the service via Zoom please visit https://us05web.zoom.us/j/89303265818?pwd=ZHk2S1hzVEh4S0VnMG82UnVNOURyZz09 or you may log into the zoom meeting ID:89303265818 Password: W8b0FL